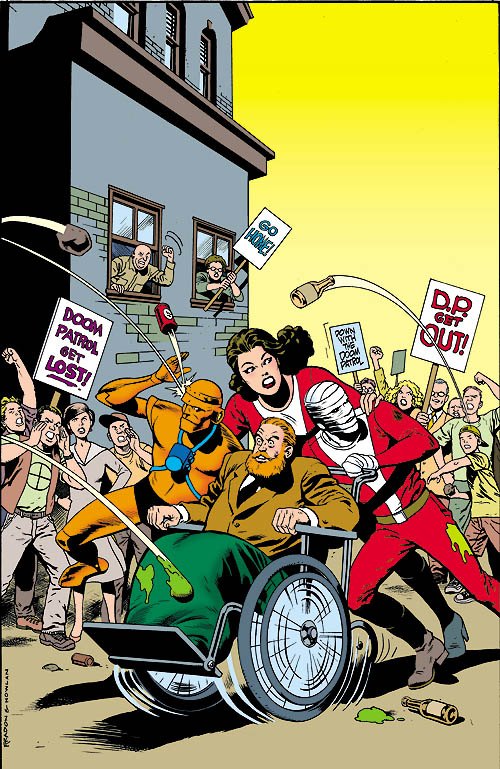 Clockwise: Rita (top), Larry, Niles and Cliff
I have decided to talk about the Doom Patrol since I've talked about characters related them. Like my "History of the League of Extraordinary Gentlemen", this will be in parts. I will be talking about differing eras of the team's history.
History
My Greatest Adventures
was an adventure anthology comicbook. However, he was becoming more and more about science fiction. As such, writer Arnold Drake was told to make a superhero team to fit both genres.
Doctor Niles, a wheelchaired bound sciencist, was bitter because he felt isolated. As such, he gathered Cliff Steele, Rita Farr and Larry Trainor to form a team, the Doom Patrol, that helped the greater good. The Doom Patrol was group of superheroes that the world see as freaks. Before you comment, read the full post. The series had a werid and strange tone. As such, the villains reflected this. They included the shapeshifting Animal-Vegetable-Mineral Man, General Immortus (who attempts to make himself immortality) and the Brotherhood of Evil (whose members included the brain-in-a-jar Brain, body-elongating Madame Rogue (who has a malleable face), the intelligent ape Monsieur Mallah and one-shot member Mister Morden).
The comic's sales and popularity waned. As such, Drake decided to end it with a bang. In
Doom Patrol
issue 121, the Doom Patrol was killed while saving a small fishing town. This was the first time a comic book ended with all of the protagonists dying.
Members
The original members were:
The Chief / Doctor Niles Chaulder- He is the leader of the team. However, he doesn't actually go on adventures and led them from the safety of his base. He was crippled during surgery to remove a bomb Immortus placed in his chest. He was now wheelchair-bound. He tended to be fatherly towards the other members.
Robotman / Cliff Steele- He was a daredevil sportsman, but was nearly killed in a car accident. The Chief transplanted his brain from his too damaged body into a robot body. Cliff tends to be rock-headed and hates his monterous appearance. He and Negative Man tended to argue with each other. He has super strength and durability.
Elasti-Girl / Rita Farr- She was a movie actor. She was given superpowers from mysterious gas vapors. She became the token female member. As such, she didn't have much of a personaility. She had the ability to increase and decrease his size.
Negative Man / Larry Trainor- He was pilot. He was exposed to radioactive elements in the outer atmosphere. This gave him the power to create a astral projection-like projection of himself made of radiation. However, it could only be maintained for a minute or he would die. He tended to be grouchy and snarky. He tended to fight with Robotman.
However, new members were introduced later on. The new members were:
Mentallo / Steve Dayton- He was a rich playboy. He built a helmet that gave him telekinesis. He only became a superhero in the hopes of getting a date with Elasti-Girl. Despite this, he helped the team multiple times. Steve and Rita got married.
Beast Boy / Garfield Logan- He gained green skin and the ability to turn into any animal from being injected with an experimental serum. After it turned out his guardian was trying to murder, he was adopted by Rita and Steve and became a member.
Similarity to Other Characters
Compare and Contrast
Similarities exist between the original Doom Patrol and the X-Men (who appeared later). Both are a team of misfit superheroes led by wheelchair-bound genius. In fact, Arnold Drake said:
"...I've become more and more convinced that [Stan Lee] knowingly stole The X-Men from The Doom Patrol. Over the years I learned that an awful lot of writers and artists were working surreptitiously between [Marvel and DC]. Therefore from when I first brought the idea into [DC editor] Murray Boltinoff's office, it would've been easy for someone to walk over and hear that [I was] working on a story about a bunch of reluctant superheroes who are led by a man in a wheelchair. So over the years I began to feel that Stan had more lead time than I realized. He may well have had four, five or even six months."
However, the X-Men (despite being released after the Doom Patrol) were written up at the same time as the Doom Patrol. As such, Stan Lee couldn't have known about the Doom Patrol unless he had advanced knoweldge.
The Doom Patrol was also similar to the Fanastic Four. Both team had public identity-lacking members and a base in a major city's public building. Each had a streching abilities (Rita Farr and Reed Richards), a member that tried to stay out of view (Niles Caulder and Sue Storm) and a brute with a freakish body that he hates (Cliff Steele and Ben Grimm). Negative Man's projection manifested in a form similar to the Human Torch's flaming form.
References:
Showcase Presents Doom Patrol
volume 1
http://en.wikipedia.org/wiki/Negative_Man
http://en.wikipedia.org/wiki/Elasti-Girl
http://en.wikipedia.org/wiki/Beast_Boy
http://en.wikipedia.org/wiki/Doom_Patrol#Paul_Kupperberg.27s_Doom_Patrol